Sacramento Electric Services
From wiring to repairs, we've got your Sacramento electrical needs covered!
Fixing electrical problems goes beyond just switching out outlets and testing wiring. If you're in need of reliable electrical contractors in Sacramento, call Gubruds Services for reliable, top quality service. Our Sacramento County electricians have years of experience and can repair any electrical problem, residential or commercial. If you're having trouble with your electrical equipment, our trained specialists are ready to help. We promise to provide you with superior service and professional results. In Sacramento, no one does electricity better than us. We'll do what you say! Get in touch with Gubruds Services right away!
Book Online
Book Online
5% Off Any Service
Honoring our Seniors, Vets, and First Responders
Automatically applied at time of service
Senior,
Military &
First Responder Discounts
Our Sacramento Electric Services
Lighting & Ceiling Fans
Generators
Electric Panels & Outlet and Switch Services
Circuit Breakers & Surge Protectors
Smoke & CO Detectors
EV Chargers
Solar Panels
Contact us at Gubruds to learn more about our electrical services!
Electrical Services in Sacramento
Book Online
Book Online
Electrical Repair Sacramento, CA
We know that electrical problems can appear out of nowhere, leaving you wondering where to begin. If you need any electrical repairs in Sacramento, our licensed and insured electricians at Gubruds Services can help. Our master electricians can handle anything from simple repairs to fixing a malfunctioning electrical system. The electricians at Gubruds Services can fix any problem you're having in no time. We're the only place you need to visit when you need Sacramento electric services.
Sacramento Electrical Installation
Our skilled Sacramento electricians understand the importance of installing electrical equipment with the proper techniques and tools.We here at Gubruds Services have you covered. We always have our best residential electrical contractors in Sacramento on your side; all you need to do is relax because you can rest assured that the task will be done right the first time.
Call us now if you're looking for:
ceiling fan installations
Outlets and switches
Whole-home rewiring
Electrical panel upgrades and replacements
And much more!
Sacramento Electric Safety Inspections
Electrical fires are typically triggered by malfunctioning electrical systems. Faulty electrical systems can cause damage to appliances and devices, necessitating costly repairs or replacements. Gubruds Services provides Sacramento electric safety inspections for the protection of your family and belongings. We are a well-known electric company in Sacramento and do on-site electrical safety assessments in order to prevent electrical fires. Frequent electrical safety checks ensure that your system runs efficiently. This prevents power outages and other dangerous problems. Make Safety Your Priority! Book an inspection now!
Sacramento Electric Experts from Gubruds
We're here to help you tackle Sacramento electric emergencies, whether it is repair, installation, or inspection. Reach out to us anytime! Upgrade your electrical system to a more efficient and safer system that will save you money in the long run. Contact us at Gubruds Services today to schedule your appointment and experience the difference between working with a trusted and professional electrical company.
Book Online
Book Online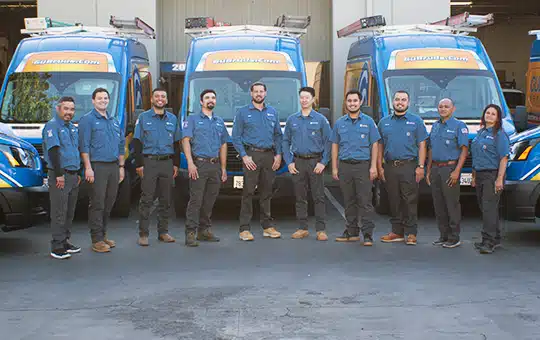 24-Hour Electrician Sacramento
Our 24-hour electrician availability is a significant difference from our competitors. We always show up on time and are ready to help. Our Sacramento electric experts are available around the clock so that you may get the high-quality service you deserve whenever you need it.Make the most of our 24/7 availability, and contact us whenever you need.