Ceiling Fans Rancho Cordova
Serving the Greater Sacramento Area since 1995
Ceiling Fans Rancho Cordova
Serving the Greater Sacramento Area since 1995
Your Local Ceiling Fan Contractor in Rancho Cordova, CA
We Are Big Fans of Ceiling Fans
Ceiling fans are essential in homes and businesses as they offer comfort, energy efficiency, and style. They are more than just a home accessory that whirls around and adds to your décor. It is a necessary electrical device that provides a refreshing and cool breeze while also improving air circulation. However, finding a dependable service provider to repair or install quiet cool fans in Rancho Cordova is critical. Gubruds Services has been in business for 25 years and has an amazing team of certified electricians to assist you in selecting the right ceiling fan for your space and properly installing it, ensuring optimal performance and safety. Ceiling fan repair experts in Rancho Cordova understand your electric system requirements and will recommend the best solution for you. Request your service today!
Book Online
Book Online
$500 Off
QuietCool Whole House Fan
Senior,
Military &
First Responder Discounts
Expert Ceiling Fan Repair near You
Our expert electricians at Gubruds Services can quickly spot and fix most ceiling fan issues mentioned above.
Before we fix your fan, we inspect it carefully to figure out what's wrong. We use advanced diagnostic tools to identify the problem, like if the wiring is loose, the motor is broken, or the blades are damaged. We will fix your problem with high-quality parts and materials to make sure the fan works at its best. Our professional electricians will always ensure that the job is done well and that you are satisfied.
Our Ceiling Fans Services
Book Online
Book Online
Why Ceiling Fans?
Ceiling fans are a great resource to have in your Rancho Cordova, CA home as an alternative to air conditioning for hot California summer days. They provide sufficient comfort and at a fraction of the price that it costs to cool down your home using your HVAC unit. Ceiling fans do need to be maintained, contact Gubruds Services to keep your ceiling fans in top condition!
Signs Your Ceiling Fan Needs Repairs
Wobbling or Shaking: If your ceiling fan is wobbling or shaking excessively, it can be a sign of a loose or damaged mounting bracket, blade, or motor. Wobbling can cause the fan to make noise, vibrate the room, and pose a safety hazard. Only a professional electrician from Gubruds Services can diagnose and fix the problem quickly.
Noisy Operation: If your fan makes unusual or excessive noise, it can indicate a problem with the motor, blades, bearings, or wiring. Noise can range from humming, buzzing, or rattling to screeching or grinding. Our qualified electrician can determine the cause of the noise and recommend the appropriate repairs.
Low or Uneven Speed: Not spinning at the correct speed or having an uneven airflow indicates a problem with the capacitor, motor, or wiring. Low or uneven speed can reduce the fan's effectiveness in cooling or circulating air and increase energy consumption. Our professional electrician tests the fan's performance and repairs or replaces the faulty components.
Faulty Light Kit: A faulty switch, wiring, or bulb can affect the performance of your ceiling fan's light kit. A malfunctioning light kit can reduce visibility, detract from the fan's aesthetics, and pose a safety hazard. Our experienced electrician can troubleshoot and repair the light kit
Why Should You Consider Installing a New Ceiling Fan?
If you have an older ceiling fan that is not meeting your needs, consider installing a new one. It can offer you the following:
Improved Performance: New ceiling fans have advanced motors, blades, and controls that improve performance and airflow. New fans can circulate air more efficiently, cool rooms faster, and operate more quietly than older models.

Energy Efficiency: New ceiling fans are designed to be more energy efficient than older models, saving you money on your electricity bills. New fans use less energy to produce the same airflow, and some models come with energy-saving features such as LED lighting and variable speed settings.

Enhanced Aesthetics: Ceiling fans are available in various styles, colors, and finishes, allowing you to choose a fan that complements your decor and personal style. A new fan can add a touch of elegance or sophistication to any room and become a focal point of the space.

Better Functionality: New ceiling fans have various features and options that enhance their functionality and convenience. For example, some fans come with remote controls, wall-mounted controls, or smartphone apps that allow you to adjust the fan's speed, direction, and lighting from anywhere in the room.

Reduced Noise: Older ceiling fans can become noisy over time, which can be irritating. New ceiling fans are designed to operate quietly, with advanced motors and blade designs that minimize noise and vibration.
Best Quiet Cool Fan Installation in Rancho Cordova
At Gubruds Services, we offer comprehensive ceiling fan installation services for homes and businesses in Rancho Cordova and the surrounding areas. Our electricians have years of experience installing all types and sizes of ceiling fans, from basic models to high-end designer fans. The installation process is efficient and hassle-free.
Book Online
Book Online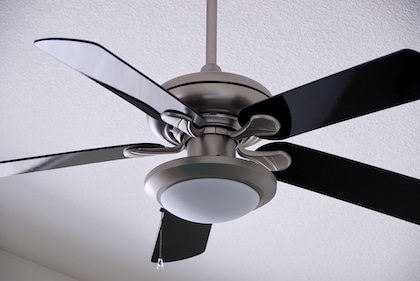 Discover Comprehensive Ceiling Fan Resources Near You in
Rancho Cordova, CA
Do you have a ceiling fan experiencing issues? Gubruds is the trusted name in Rancho Cordova, California ceiling fan installation & replacement services near you.
Schedule your ceiling fan installation or replacement cost estimation service today & ensure that all of your ceiling fan systems are running smoothly all year long!
Frequently Asked Ceiling Fan Questions
How do I choose the right ceiling fan?
Choosing the right ceiling fan can be a daunting task but it all comes down to a few factors. Obviously, first and foremost, the design of the ceiling fan is extremely important. But, there are other considerations that are often overlooked that are important to keep in mind when choosing the right ceiling fan including energy efficiency, wind speed, noise, air circulation capabilities, noise, and durability.
What size ceiling fan do I need?
When choosing a ceiling fan, the size is often an overlooked factor. It's a good idea to get the measurements of the room you are installing the ceiling fan in and bring them with you when purchasing the fan so you have a relative idea of how big or small the fan will be in relation to the size of the room. Different sized ceiling fans will produce different effects, but it all comes down to your preferences at the end of the day.
What's the difference between indoor and outdoor ceiling fans?
The main difference between indoor and outdoor ceiling fans comes down to moisture. Indoor ceiling fans (dry-rated) are designed to service indoor areas that aren't exposed to moisture. Outdoor ceiling fans are in either one of two categories: wet-rated or damp-rated. Wet-rated indoor/outdoor ceiling fans are built to withstand the elements and can rain be installed indoors or outdoors. Damp-rated outdoor fans can be installed in covered, damp areas but are not meant to be exposed to the elements.