Holiday Lighting Installation
Serving the Greater Sacramento Area since 1995
Holiday Lighting Installation
Serving the Greater Sacramento Area since 1995
Professional Christmas Light Installation Rancho Cordova
From a Professional Installation to Permanent Christmas Light Installation, We Got You Covered!
Are you passionate about Christmas lights but dread the hassle of putting them up? Have you admired professionally done light displays and yearned for that level of Christmas light installation in Rancho Cordova for your own home?
Give our Rancho Cordova electricians a call at Gubrud's Electrical Services, and let's discuss how we can make your dream of Christmas lights a reality. Our team is ready to assist with Christmas lights in Rancho Cordova, and we'll be there promptly to ensure your lights shine when you need them.
Book Online
Book Online
Seniors, Veterans, & First Responders
5% off any service
Call us today for details!
Senior,
Military &
First Responder Discounts
Professional Top Tier Lighting Installation Services Near You in the Rancho Cordova, CA Area
Whether you are looking for exterior or interior lighting, the lighting experts at Gubruds have you covered! We provide a wide array of Professional Top Tier Lighting Installation services and styles to help make sure you get the perfect fit for you and your Rancho Cordova, CA home. Whether you are simply looking to replace old lighting, or you are looking to add something new and inviting to your home by adding brand-new lighting, you can trust that Gubruds will get the job done as seamlessly as possible. Call us today so we can walk you through your options, learn more about our Lighting Installation services, and even receive a free price estimate.
Our Lighting Services
Book Online
Book Online
Rancho Cordova Christmas Light Installation Made Easy
While it's possible to set up your own outdoor Christmas lights, many people opt for this route as it's a delightful way to celebrate the holiday season with loved ones. However, if you'd rather not tackle the task or you struggle to achieve the desired look, reach out to our lighting design experts for your Christmas light installation in Rancho Cordova this year.
Our team can help you with:
Designing your light display to match your vision
Swift and efficient light installation
Maintenance of your display, including bulb replacements and storm-related repairs
Taking down your lights once the holiday season concludes
Bring in the Professionals for Flawless Outdoor Christmas Lights
Our Rancho Cordova Christmas light installation experts are here to make your life easier. Turning to professionals can help you:
Save time and energy for cherished holiday traditions
Eliminate safety concerns, especially regarding electrical issues or precarious ladder climbing
Forego the stress of taking down and storing lights after the holidays
Ensure your Christmas lights look stunning, free from tangled cords and tripping hazards
For professionally done Rancho Cordova Christmas lights tailored to your preferences, get in touch with us today!
Oelo Permanent Christmas Lights
In addition to traditional Christmas lights, our Rancho Cordova electricians can also install Oelo permanent Christmas lights for you. Oelo Christmas lights shine brightly at night and remain inconspicuous during the day, allowing you to illuminate your home year-round. You can easily change their colors using a smartphone app.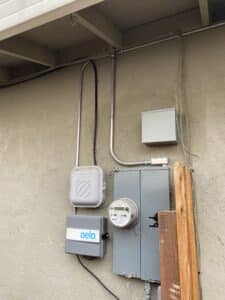 If you're unfamiliar with Oelo Christmas lights, rest assured that they are among the finest permanent Christmas lights available. We've partnered with them because they offer a product we believe in and that our customers adore.
Contact Us About Rancho Cordova Christmas Lights Today
Whether you're interested in permanent Christmas lights or the standard variety of Christmas lights in Rancho Cordova, don't hesitate to reach out to Gubruds Electrical Services today. One of our Rancho Cordova electricians will be on their way promptly to ensure you have the lights you desire before the holiday season begins.
Book Online
Book Online
Frequently Asked Questions
How much should I budget for lighting?
In order to figure out how much you should budget for lighting, you will probably need to have a lighting expert from Gubruds come out to your home and work with you to figure out what your lighting needs are. Your Gubruds professional will also be able to give you a free price quote.
Can I integrate lighting with my smart home?
Yes, with today's technology, you can integrate your lighting (smart lighting) with your smart home system. All you need to integrate the two, are wifi and a smart lighting system. If you're looking to install a smart lighting system with your smart home system, call Gubruds to have a trusted expert come out to your home.
Can bulbs and/or fixtures be easily replaced or does an electrical contractor need to be scheduled?
When dealing with more simple fixtures, like a lamp, for example, the bulbs and fixtures can definitely be easily replaced by the homeowner. When it comes to more complicated issues though, such as a nicked wire or a fuse replacement, it is best to have a licensed electrician from Gubruds fix the issues. Electrical work can be tricky and cause hazards if not handled properly.
When should I plan my lighting?
If you're in the process of building or renovating your home, you will want to plan the lighting. Lighting can make a huge impact on a room, and where you choose to install different types of lighting fixtures can make all the difference. Your lighting expert at Gubruds can help guide you in the process of planning out your lighting.
What's the difference between architectural and decorative light fittings?
The difference between architectural and decorative light fittings is that decorative fittings are meant to enhance the aesthetic of the room and are meant to be seen while the latter's purpose focuses more so on its core function. Decorative lighting isn't necessarily better than architectural lighting, or vice versa. They both serve different purposes and should compliment each other when installed correctly.
Can I use sensors to turn my lights off and on?
Yes, you can use sensors to turn your lights off and on. Lighting sensors have motion sensors that will trigger on or off depending on the time of day. Some sensors even allow you to set them on or off for certain lengths of time. Lighting sensors can make a huge positive impact on your home both functionally and aesthetically. If you're thinking of installing sensors in your home, call Gubruds to have a lighting expert come out to your house to discuss options and offer you a price quote.