How to Use Your Permanent Christmas Lights Year-Round
How to Use Your Permanent Christmas Lights Year-Round
How to Use Your Permanent Christmas Lights Year-Round
How to Use Your Permanent Christmas Lights Year-Round
Do you love bright and lovely Christmas lights but are weary of the tedious installation process? Instead of hiring a professional to install your lights only to take them down again in a few weeks, invest in permanent Christmas lights that can be customized for year-round fun. You end up with a festive, highly customizable light display that you love coming home to every day.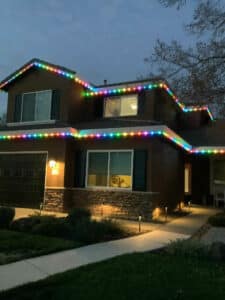 Not sure what to do after the holidays? Here's a look at how you can use your Sacramento Christmas light installation for year-round fun from our Sacramento electric experts.
Set the Winter Mood in January
A Christmas light installation in Sacramento easily extends past the winter holidays and illuminates the New Year. Set the mood with cool blues and dazzling whites with the help of your smartphone and Oelo Christmas lights. You can make changes on the fly to capture whatever winter mood you're feeling that day.
Usher in the Spring Season with Pastels
Spring signals bright colors, pastels, and the first signs of flowery blooms. Get creative with your lights display that compliment your landscaping or colorful garden. Or you can focus on a particular event, like Easter to celebrate the season.
Celebrate Patriotic Celebrations in the Summer
Summertime is all about Memorial Day, July 4, and Labor Day. Use your Sacramento Christmas light installation to create a red, white, and blue theme all summer long. If you want something besides color, you can also enhance your display by setting fun movement patterns with an Oleo lighting display. Set your app to use different colors and hues.
Signal the Start of Fall
The start of the school season ushers in Halloween and Thanksgiving are the times to lean into fall colors for your Sacramento lighting display. Our team can also install face mounts, accent mounts, and under mounts to achieve the desired look you want. For example, with the right mount you can design a traditional look or a wall wash effect that creates a buzz over your creativity.
Celebrate the Winter Holidays
The winter holidays are usually what come to mind when investing in outdoor Christmas lights. Beyond Christmas, you can also set displays for Hanukkah and New Year's Eve to usher in the start of a brand new year. Try creating a movement display to mimic the sensation of snow.
Honor Your Most Special Events
Your permanent light display doesn't have to be something tied to seasonal colors or festivities. Instead, you can illuminate your home for a special occasion, like a birthday or retirement party. There's no fuss with lights and decor; just use your smartphone and create a choreography of color. You can also schedule your lights to turn themselves on or off at a specific time.
Call the team at Gubruds Services Today
If you're ready to take the next steps with a Sacramento Christmas light display, call us today! We'll come to your home or business, take a look, make recommendations, and offer upfront pricing for an installation you can trust. We also offer lighting repair in Sacramento and all the electrical services you need year-round. Contact us today

Go with Gubruds
Hear what your neighbors are saying about our electrical services in Sacramento