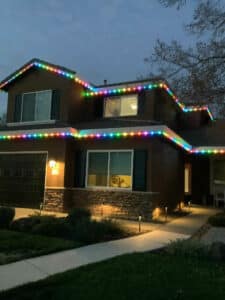 Professional Christmas Light Installation in Sacramento
Do you love Christmas lights but hate putting them up? Have you seen professional lights and wished you could have that kind of Christmas light installation in Sacramento for your home?
Call us at Gubrud's Electrical Services to find out how we can help you get the Christmas lights you've always wanted. Our Sacramento lighting team is here to help and we will respond fast so you can get your lights up when you need them.
Sure, you can put up your own outdoor Christmas lights. Many people choose to do it this way because it's a fun way to celebrate the holidays with family and friends. If you're not up for it, though, or you can't get them to look the way you want, give us a call for your Christmas light installation in Sacramento this year.
Our Sacramento electric team will help you with:
Planning your light display and getting it to look exactly the way you want it to look
Installing your lights quickly and efficiently
Maintaining your display, including replacing burned out bulbs or fixing lights if a storm damages them
Taking your lights down when the holidays are over
Bring in the Pros to Get Your Outdoor Christmas Lights Done Right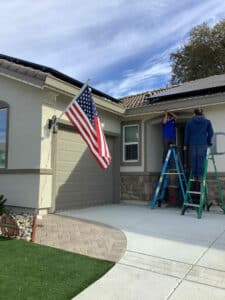 Our experts in Sacramento Christmas light installation are here for you. Bring in professionals when you want to:
Save your time and energy for the holiday traditions that matter the most to you
Stop worrying about safety and hazards, especially electrical issues or climbing up and down ladders
Avoid worries about taking your lights down and getting them into storage when the holiday season is over
Know your Christmas lights will look amazing and that you won't have to worry about dangling cords or tripping hazards
For professional Sacramento Christmas lights the way you want them, call us today!
Book Online
Book Online
Permanent Christmas Lights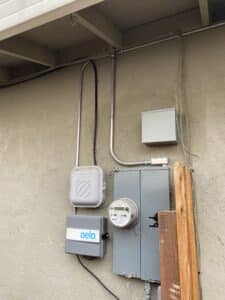 Our team can also install permanent Oelo Christmas lights for you. These lights are bright at night but invisible during the day, and they allow you to light your home year round. You can change their colors with an app on your smartphone.
If you haven't heard of Oelo Christmas lights, rest assured that they are some of the best permanent Christmas lights out there. We have teamed up with them because they have a product we believe in and that our customers love.
Call for Sacramento Christmas Lights Today!
Whether you're looking for permanent Christmas lights or the regular kind, call us at Gubrud's Electrical Services today. One of our lighting professionals will be there soon to get you the lights you need before the holiday season starts.

Go with Gubruds
Hear what your neighbors are saying about our electrical services in Sacramento